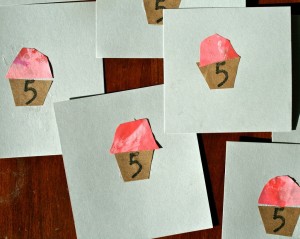 Wowzers. I've been away from this little blog space for a bit. It was an unexpected, but much needed, blog break. I have this strange throat problem that is taking forever to heal. It all began when I choked on a tuna sandwich on our way to Philly about a month ago. The doctor thinks I damaged some sort of membrane-y thing on my pharynx (wherever that is), and it has made eating and just generally existing a bit more challenging than normal. How weird is that? My new friend, the pharynx, feels so much better than it did a month ago, though, which is super encouraging, and indicative of its slow, but steady, healing process. There will be no injured pharynx allowed at Cape Cod when we go camping this summer.
Oh, and we had a big family birthday party for Chick who will turn FIVE on Wednesday. Don't even get me started on how big that feels and how she has lost almost all of her babyish features (except her hands, which are still chubby and stocky). Chick made a few fairy cup cake birthday invitations out of card stock, painted brown paper bags, and a glue stick. I stamped the back with an invitation stamp I bought years ago.
Here are her chubby little hands making the invitations. But, wait! Are they thinning out a bit? They still look kind of like a toddler's hands, right?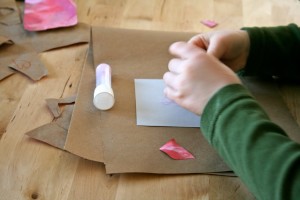 And, we made my besty besty friend's (mother of two lovely nieces and sweet cheeked nephew) bean salad. It is one of my favorite things to eat because of its sweet and tangy flavor and because of the texture. It has lots of different plump, tender beans and crunchy little bits of celery and pepper. It is one of those magical recipes that most people at the party eat and love and then ask for the recipe. And, look how pretty it looks!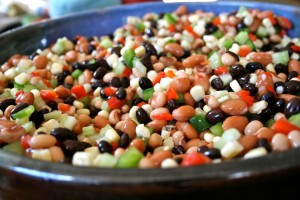 You can use dried beans, but it will take a little more work because you'll have to leave time to soak and then cook them. I used canned this time around.
Ingredients:
1 can black beans
1 can pinto beans
1 can black eyed peas
1 can white corn
1 green pepper diced
1/2 cup red pepper diced
1 cup diced celery
1 jar pimentos diced
1/2 cup sugar
1/2 cup vegetable oil
3/4 cup apple cider vinegar
salt and pepper to taste
How to:
Drain and rinse the beans and corn well. Mix with diced pepper, celery, and pimento. Bring the sugar, vinegar, oil, salt and pepper to a boil until sugar has completely dissolved. Pour the warm sauce over the bean mixture, cover, and refrigerate overnight. Drain the marinade before serving. I doubled the recipe because I needed to have some leftovers for vacation week.
xo e