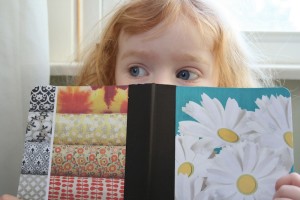 This is my little mouse peeking out from behind a book I made a few years ago. Photographs of both of my daughters appear in Show Me a Story, and so, naturally, they see it as their book too. It is, of course, their book too, but not just because of the photographs– they provided the daily inspiration.
Today, the tour makes its way to lovely Jessica Wilson from scrumdilly-do. Jessica is an early childhood educator and was at one point in her life a children's book seller extraordinaire . She tells stories to her students everyday and she tells me that Show Me a Story is now one of her favorite resources. Hooray!
You can read her review here where you can leave a comment for a chance to win a copy. Storey Publishing has asked that the giveaway be open to US Residents only.
Show Me a Story :: Blog Tour

Week One
9.24 Catherine Newman
9.25 maya*made
9.26 Crafty Crow
9.27 Average Jane Crafter
9.28 Zaa Berry
Week Two
10.2 Small Measure
10.3 scrumdilly-do
10.4 One Golden Apple
10.5 Jane of All Trades

Week Three
10.8 Mommy Coddle
10.9 Whip Up
10.10 Wise Craft
10.11 Bird and Little Bird
10.12 Zakka Life
xo e