We stayed in a great hotel directly in the heart of the city. It has glass walls, a glass ceiling, and a glass elevator that made me a little weak in the knees. I eventually got used to it, and by the end I was brave enough to look outside as we raced to the fifteenth floor.
Standing in the hotel lobby, looking up.
This was at the wonderful Magic Tree House Bookshop in Oak Park, right outside of Chicago. It was my first stop, and as soon as I began making Story Disks with the children, big, fat snow flakes fell from the sky. It was beautiful and perfect.
My next stop was the Chicago Children's Museum at Navy Pier where I was so impressed by the creative exhibits and sweet staff. And, um, the children and families that made Memory Cards with me were unbelievably creative. Oh my! They had it going ON!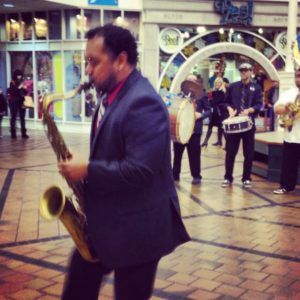 Tom and I walked to the end of Navy Pier where we seemed to be the only ones willing to brave the frigid wind. Night was coming, and I was determined to stare into the milky blue waters of the Lake Michigan before it was time to go. We caught a gorgeous sunset and we were serenaded on our way to dinner. Such beautiful gifts!
And then we squished onto a tiny plane (3 seats across and all of the tall people had to crouch while standing) and soared back to our home sweet home, where my two children greeted me with warm cheeks, smelling of chocolate and shampoo.
It is so nice to soar, to go on adventures, to meet crowds of wonderful, new people. It is fun to drift and gaze and wander. It is also so nice to come home.
xoxo
emily
p.s. Want to see more of my Instagram photos? Follow along here: redbirdcrafts.