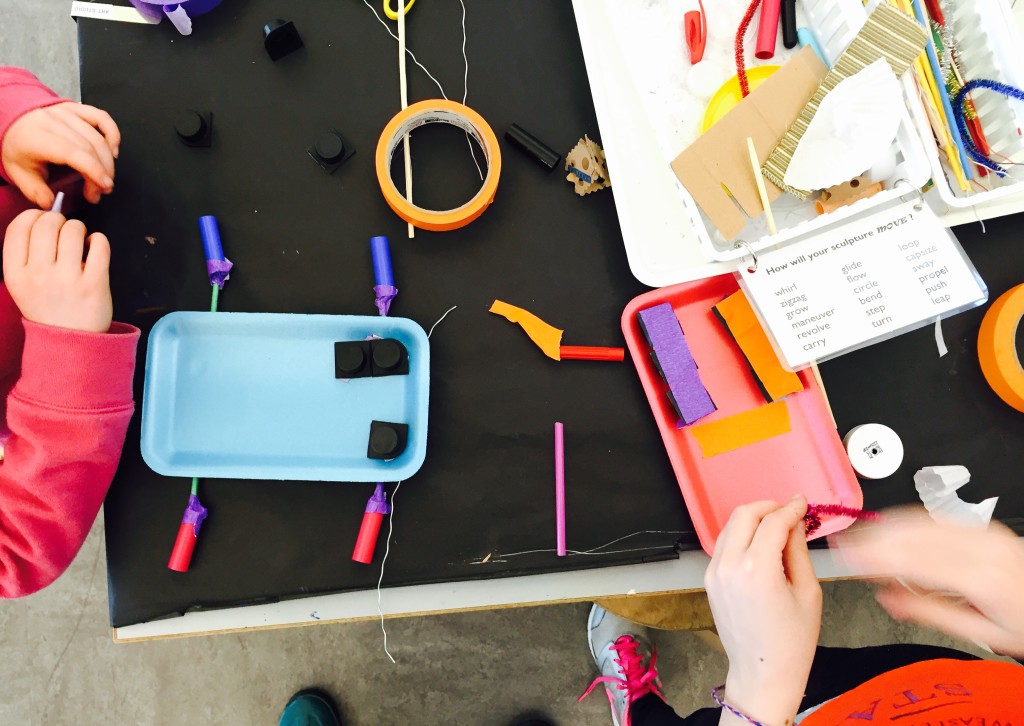 I am fortunate to live only two miles down the road from the gorgeous, always inspiring Eric Carle Museum of Picture Book Art. When I close my eyes and remember the time when my daughters were toddlers and preschoolers, I see park picnics, circle time at our town's family center, rainy playdough mornings, warm banana bread loaves, buckets filled with stones and seed pods, and visits to The Eric Carle Museum. Our museum mornings were very special. We'd be sure to arrive in time for story time, where my daughters would squeeze onto the Brown Bear, Brown Bear rug and notice a book's end pages. After looping through an exhibit in one of the galleries, we'd march across the hall to nibble snack in the cafeteria, and then we'd wander into the sunlit art studio to dive into an art project. We'd leave the studio with inky hands or maybe some damp paper stuck to our elbows, proudly carrying our newest creation. It was the perfect cap to a creative morning. And, now I get to do it all again with my little boy, who is just 2 ½ and in love with visiting "our museum."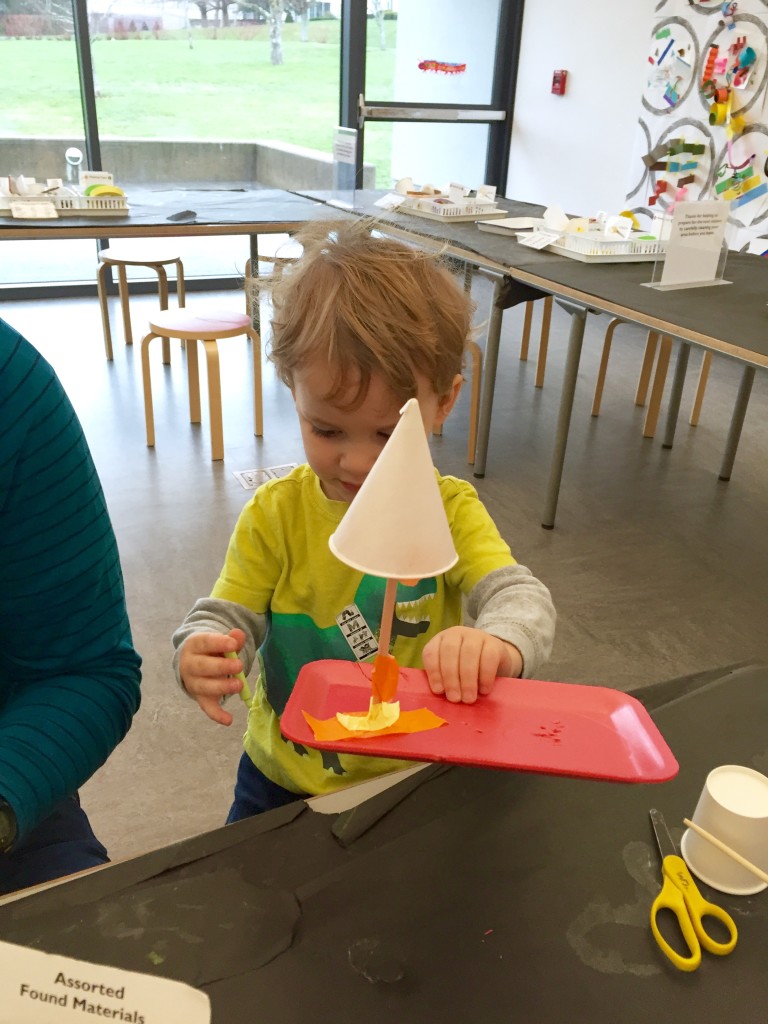 I've been honored to teach workshops and camp classes in the art studio over the past years. It is beautiful space to inspire children's imaginations, and I always love chatting with the educators who work there. The studio is a Reggio Emilia Atelier-inspired space with ceiling to floor south facing windows and inspiring books, sculptures, art, and materials. It is a space that welcomes invention and exploration. In the spring of last year, I sat down with the two Art Studio Educators, Meghan Burch and Diana MacKenzie, to discuss materials, projects, their positions, and the way in which the studio is a place of education and inspiration.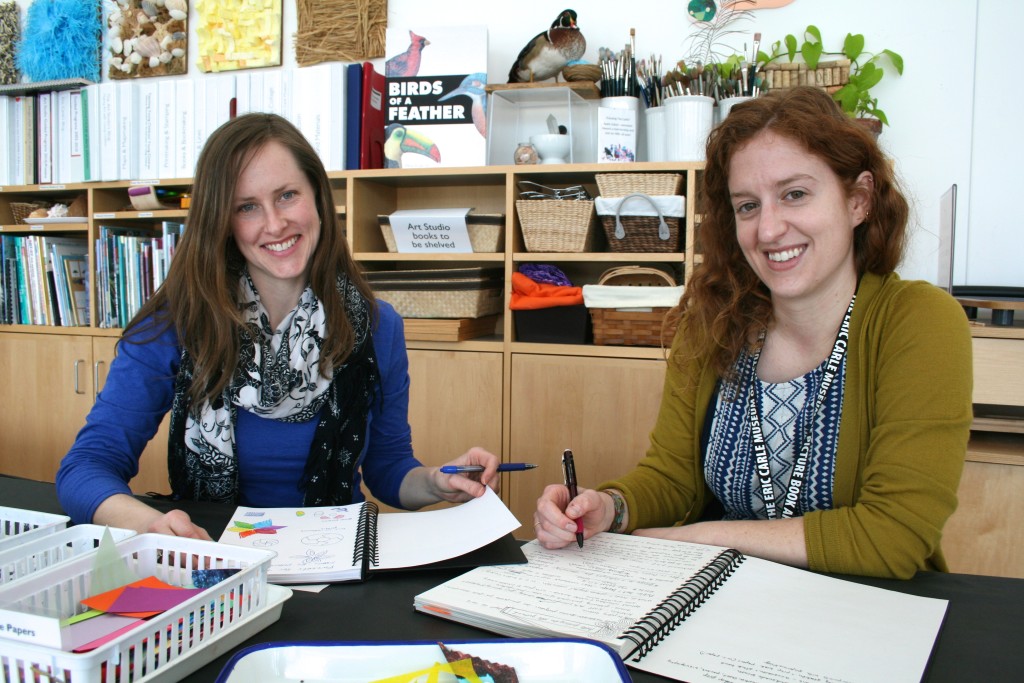 [As I sat down at the table to chat with Diana and Meghan, they pointed out the current Every Day Art project "Tear It Up" available to guests that day. For the project, guests could to use torn paper, fabric, photocopies of silly face parts (noses, ears and eyes) and gel pens to make funny characters inspired by the collage works on view in The Carle's gallery exhibition, Tall Tales and Short Tales: The Art of Uri Shulevitz.
 Meghan and Diana explained that they have master sheets of the photocopied body parts and they simply cut more as needed.
 When I visited, the artist in the gallery was Uri Shulevitz. His work uses overly sized proportions of facial features and bodies on his people and figures.
Emily: What are you position titles and roles in the studio?
Meghan and Diana:
We are Art Studio Educators.
Emily: Can you explain what is different and unique about your positions?
Meghan: I design projects for all of the guided programs and groups of visitors that come to The Museum. When groups visit, they have time in the gallery and time in the Art Studio. Groups can be classes (grades K through 2nd are most typical), but all ages come, too. We've had groups of high school students who are interested in early childhood education, college-level children's literature classes, groups of seniors, and groups of pre-school children, too.
Diana: I design the projects for the Every Day Art Program at The Museum. This is the project that is available in the Art Studio whenever the museum is open.
We both teach children, run and plan professional development programs, and manage staff.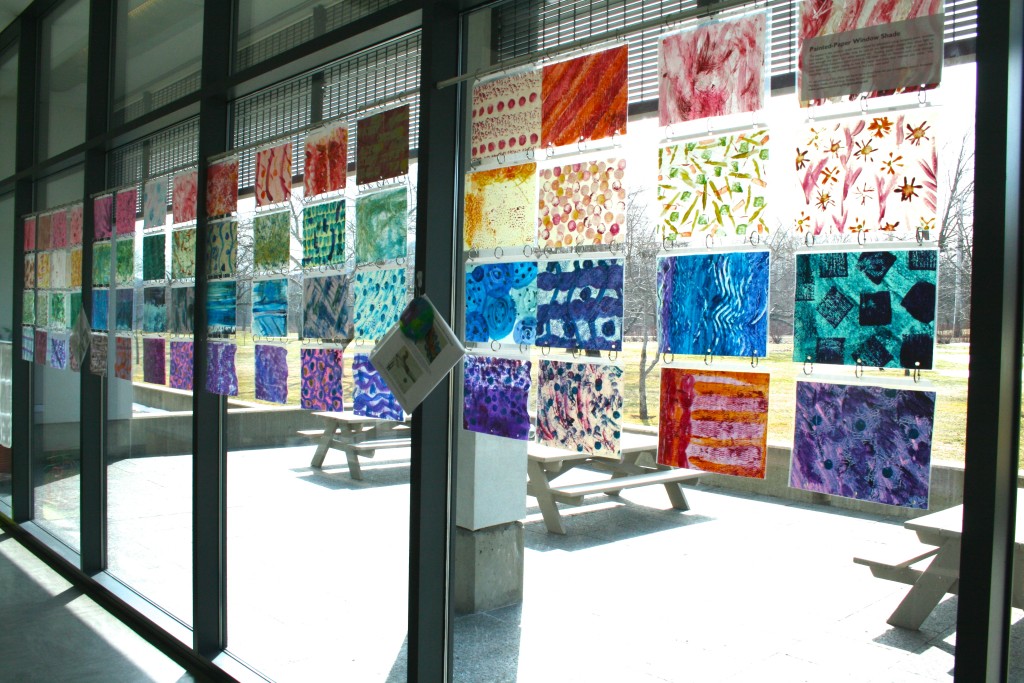 Emily: How many staff members work in the Art Studio?
Diana: We have approximately twenty staff members at any given time. It is a combination of volunteers who work 3½ hrs per week, to work study students and interns from the five colleges (Smith, Amherst, Hampshire, University of Massachusetts, and Mount Holyoke) who work up to 10 hours per week. In fact, right now it is work study interview season!  We hold a spot in each of our professional development classes for staff – free of charge.
Emily: What are your educational/professional backgrounds? Do you have a background in museum education? Or, studio art?
Meghan: I have a BFA in illustration. I love picture books, and I'm interested in helping other people connect with the creativity found inside them
Diana: I have a BFA in printmaking, and I'm currently adjunct faculty at Springfield College where I teach an introduction/survey course on printmaking.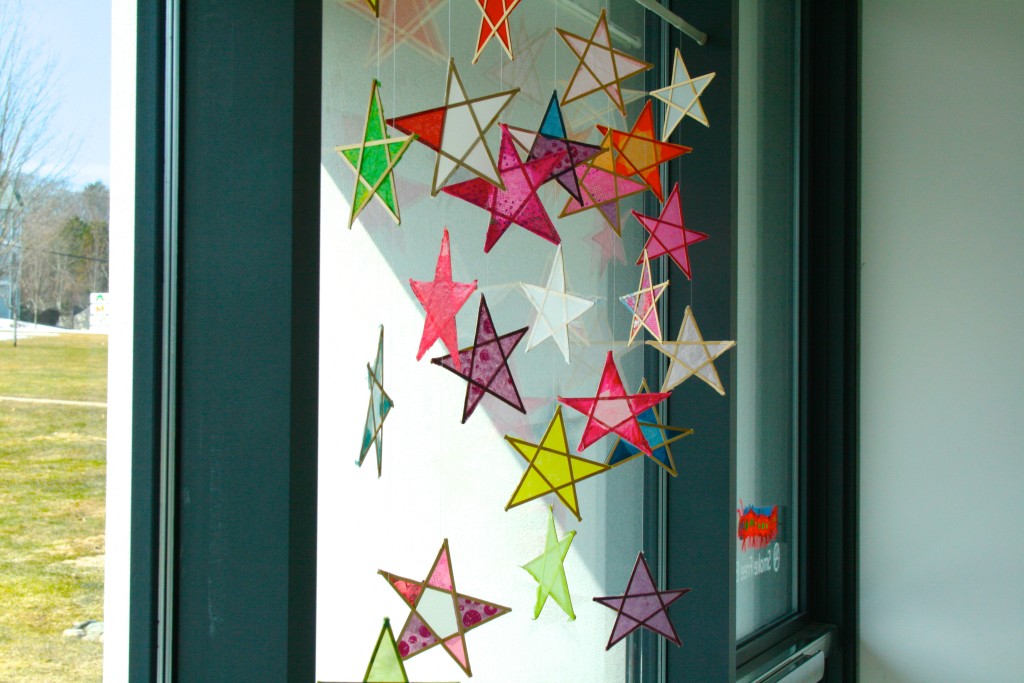 Emily: Based on our discussion, both in the past and today, I would have sworn you both had an educational background in arts education.
Meghan: The Museum has been an education in education! I love learning though experience and learning from others who have done it longer. Rosemary Agoglia, former director of education at museum, taught me so much through her example and encouragement.
Emily: What is the goal and mission of the Eric Carle Museum Art Studio?
Diana: Our website has a great summary of our educational philosophy at the museum:
All of the education programs at The Eric Carle Museum of Picture Book Art are built on the premise that picture books help to inspire a lifelong love of art and reading. Excellency, originality, and a wide range of opportunities for creative inquiry and appreciation of the visual world define our offerings. Our goal is to support and engage all visitors regardless of their level of familiarity with art and art making.
Our on-site programs, which encourage careful observation in the galleries, book discussions in the Reading Library, and time spent exploring materials and techniques in the Art Studio, all draw heavily on the Visual Thinking Strategies (VTS) and the Reggio Emilia model of education, approaches designed to foster critical and creative thinking skills and personal connections with the world of art.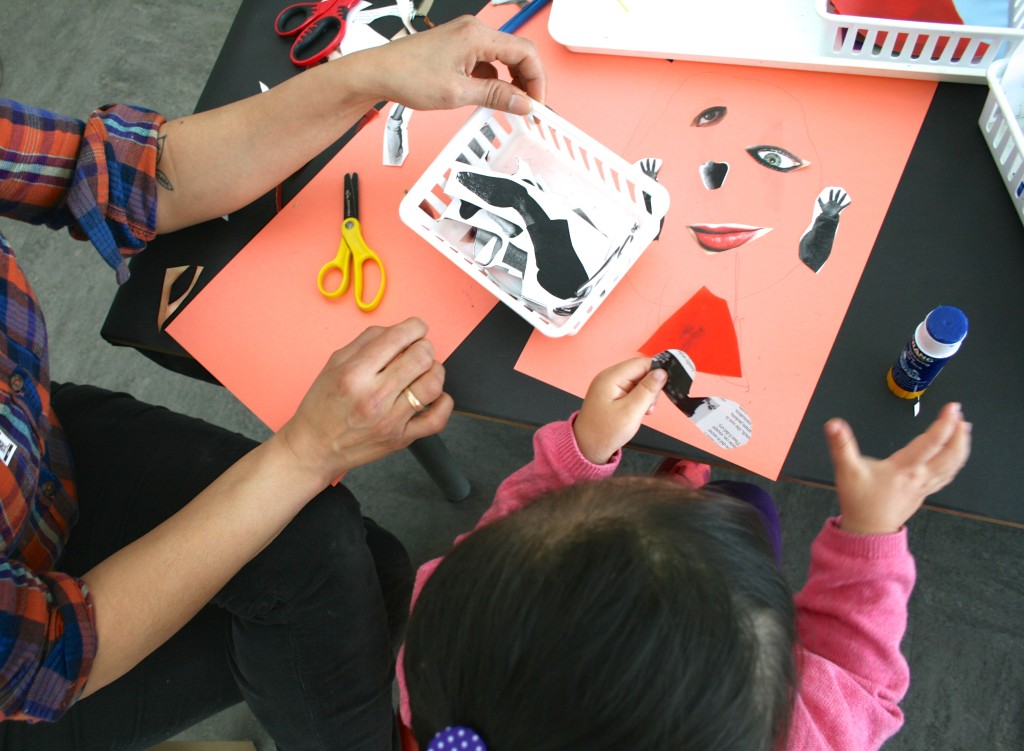 Emily: Diana, can you tell me more about the studio's Every Day Art Program?
Diana: Sure! Our Every Day Art Program is the name for the project that is offered in the Art Studio when you are visiting The Museum. If you stop into the Art Studio, a staff member will greet you and describe what the activity is and hopefully inspire you experiment with the materials. You'll also be shown examples of how other guests of all ages used the materials, which we often have on display in fun ways.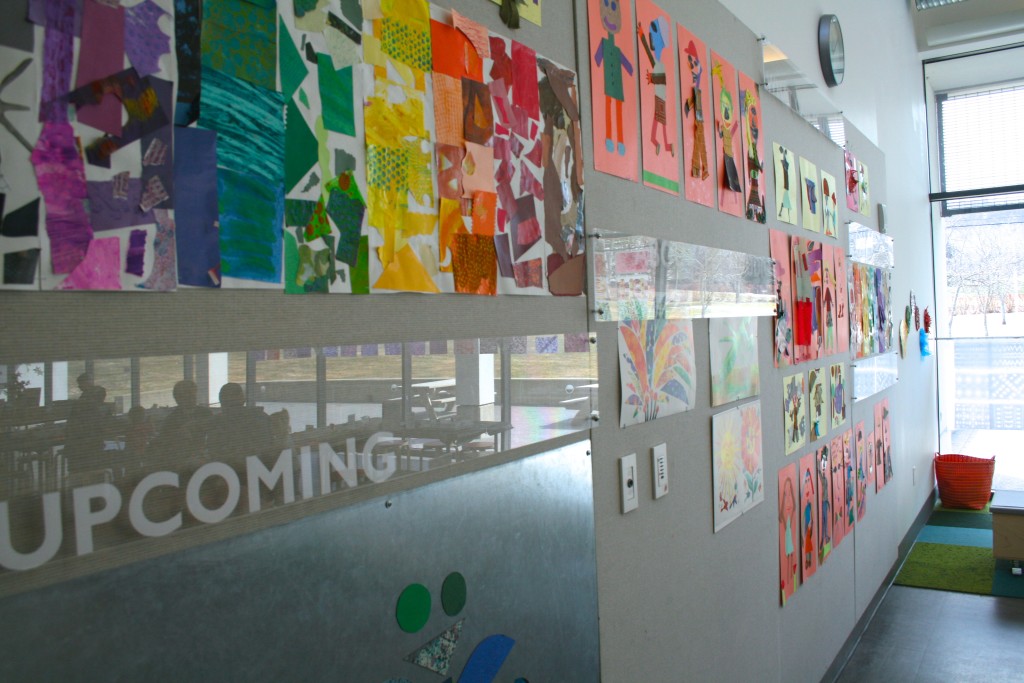 The description of our Every Day Art Program from our website is:
 The Art Studio at The Eric Carle Museum of Picture Book Art is open to guests of all ages during regular Museum hours and supports the aims of the Museum by encouraging making, appreciating, and thinking about art. Activities and materials change regularly and are inspired by the Museum's exhibitions.
The project that is offered is usually linked to an artist or a specific work in the gallery. We provide language for staff to use to explain this connection and to explain the materials and the project. Our guests are always introduced to the project in a friendly and welcoming way.
Meghan: The guests are invited to participate. We see the materials and welcome as an open invitation to be creative. We encourage guests to approach the materials with where their interests lie and where their abilities are. If they take the materials in a direction that is different than the museum staff's explanation, it is fine!
Diana: We do try to design projects that spark an interest with the hope that they will want to take it in their own direction. When we introduce the project, guests often get a big smile on their faces. They are excited to tackle the challenge!
I plan studio projects 4- 6 months in advance. There is a 4-6 week project cycle, which means there is a brand new project new project every month or so. We like to offer a project for at least a month because it allows staff the chance to be comfortable with the materials when helping guests. And, often, local guests will like to come back and do the project again. It gives them a chance to gain a mastery of those materials and they learn that there is more than one way to use a set of materials.
Lots of time and planning goes into the preparation and organization of projects, which is another reason we spread them out over 4-6 weeks. I provide an information packet for staff for each new activity, so they can learn about the goals and materials. I also provide suggestions for interacting with guests in a fun and supportive way.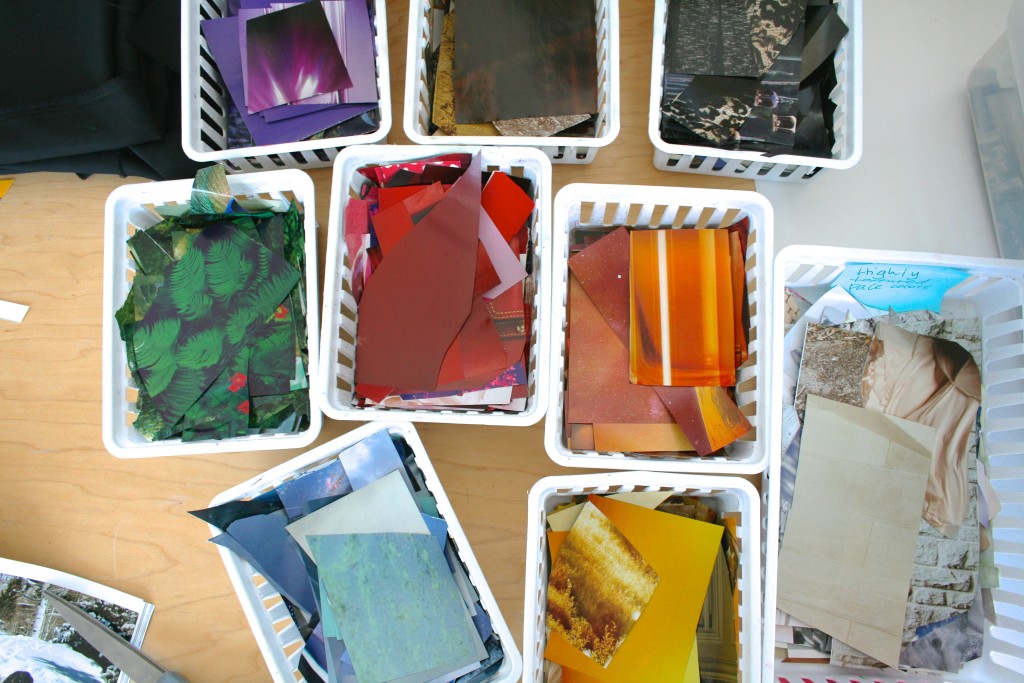 Emily: Do you ever repeat projects in the Every Day Art Program?
Diana: Yes! Collage is one of the biggest crowd pleasers. We do like to approach it in a different way with fresh ideas, and we especially like to present it through the lens of the exhibition in the gallery.
Oh, and materials are definitely continuously repeated! We will always have guests that are new to creating.
Emily: Tell me more about the way you connect the projects to The Museum's exhibitions. Do you collaborate with The Museum's curator?
Meghan: We have access to information about what will be in the exhibit months before it opens. This helps with our planning. We get to see some of the images, which is very useful. When we saw the images for the Uri Shulevitz exhibit, we were immediately drawn to the over proportioned facial features and bodies.
Emily: Do guests often ask for different or additional materials?
Meghan: Yes, they do. When this happens we encourage staff to ask them to look again at what is in front of them. "How can you use these materials to create your vision?" Our staff is trained to be supportive of creative challenges.
Diana: When guests ask for something that isn't there, rather than just saying "no," we turn it into a challenge. I'll say something like: "What is it you are trying to do?" and "Let's find a way with the materials that are here." Before a project begins I test out the different materials together and add or subtract from the set of materials so they are interesting to work with and could create a variety of outcomes.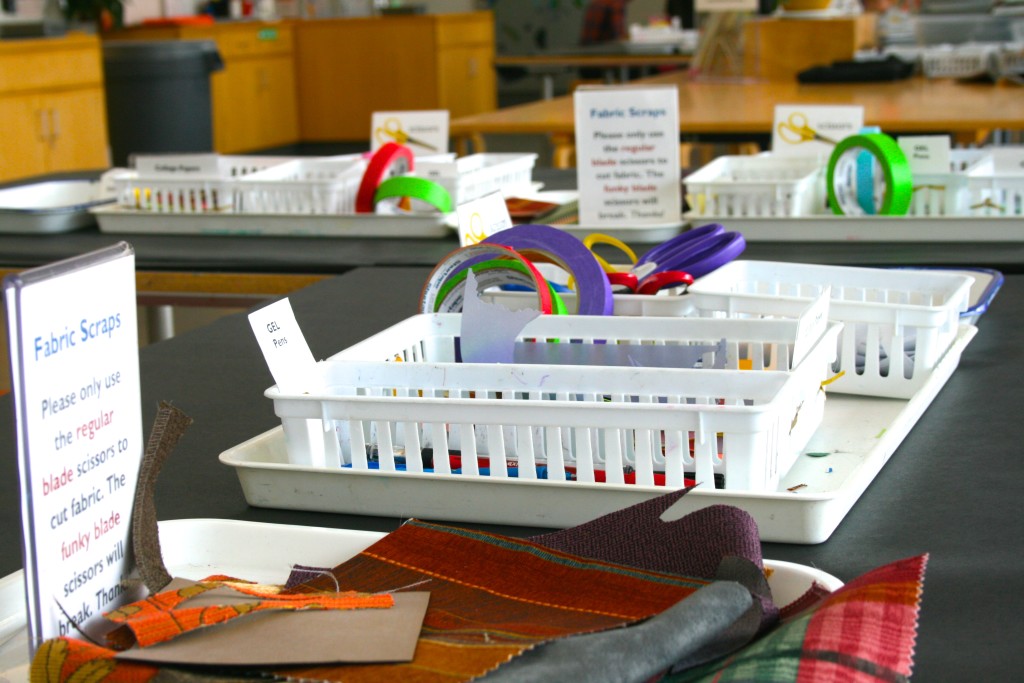 Meghan: If they would like a stapler, I might say, "It looks like we don't have staplers out today. Staplers are a connecting tool. What connecting tools do we have on the table?" Limiting materials is intentional. We don't want there to be a choice overload, and it encourages problem solving. There are multiple ways to use the few materials!
Emily: Can you name a project that has been a huge hit with patrons?
Diana: Paint! Children come through the door and tell us they are "ready to paint!" Guests also love the Eric Carle-inspired tissue paper collage project. Everyone is drawn to the materials. We tend to repeat it twice a year and we make it short, so it is more special. We usually run it around the winter holidays and in the summer.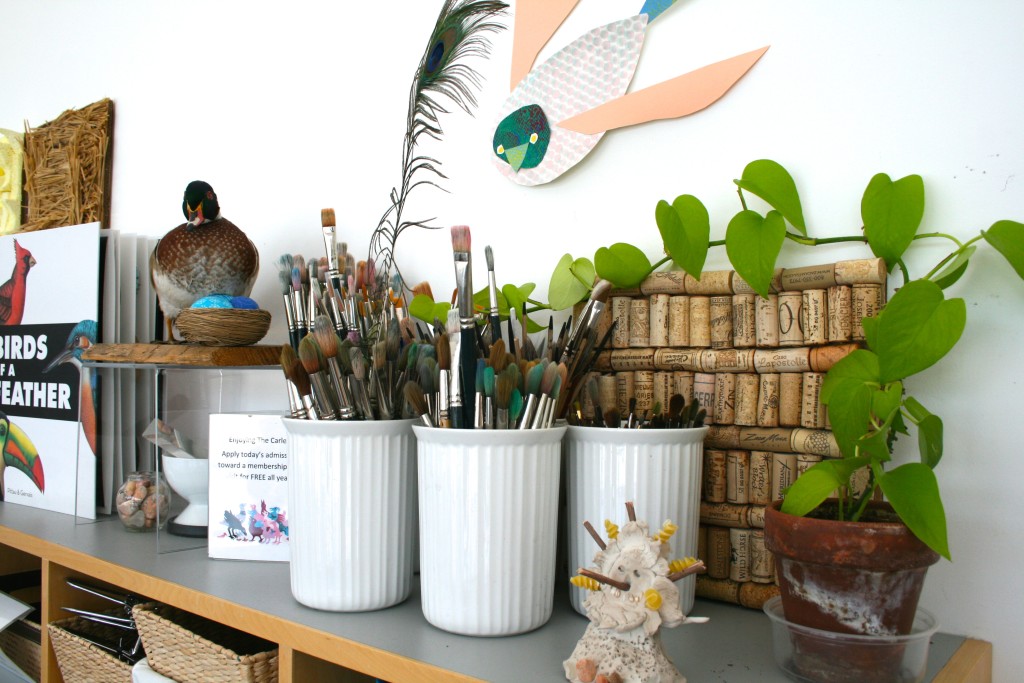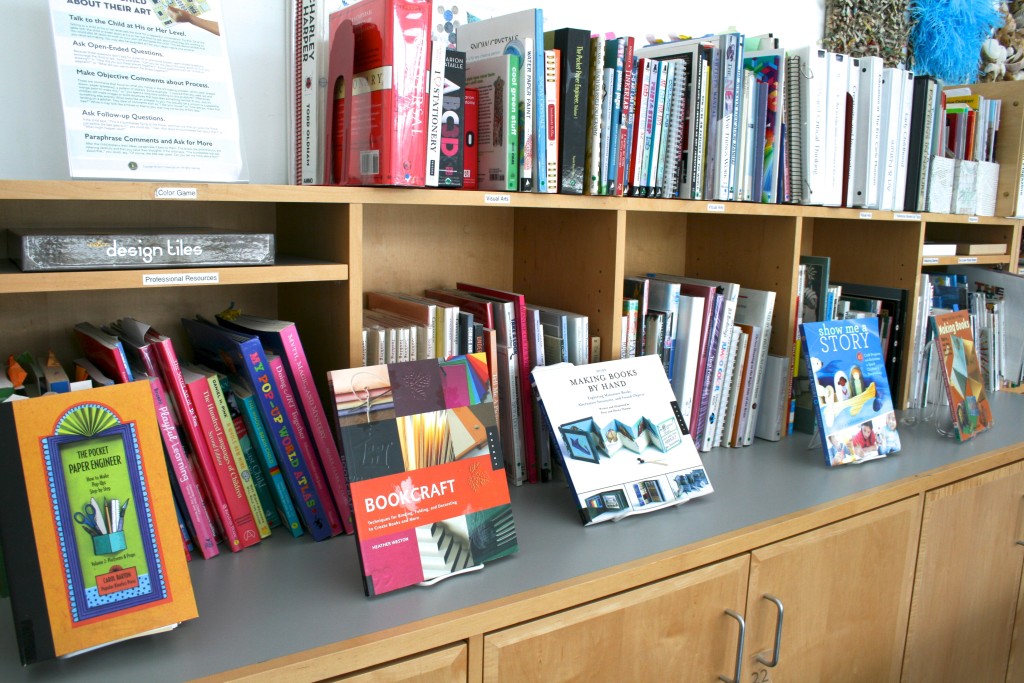 Emily: The studio space is so inviting! What kind of thought and planning goes into how you display art and materials in this space?
Meghan: In Reggio Emilia the environment is considered the "third teacher." Drawing from that, we work to make this space as inviting and visually inspiring as possible for many ages. We want our guest to feel comfortable and excited to create. Keeping materials organized, displaying our guests' art, and offering activities beyond art making all play a role in this. I have children ages 4 and 2, and for me, the way I feel about them spreading out and making messes here is different than at home. We are living in our space at home – we cook, fold laundry, and eat there. This space is different – it is dedicated to making and thinking about art. It is special and we love being able to provide this specialness to our guests.
Emily: What is one of your favorite aspects of your role as Art Educators at the museum?
Diana: I love to see how people approach materials in very different ways than I had conceived of the project. There are even more solutions than I could imagine. I especially love teaching classes because it allows me to take the instruction a step further.
When I was a child, I loved to make books. Stapling pages and putting ideas in them was an important part of my childhood. I love showing people that they, too, can make their own books. It is like passing on a secret.
Meghan: I enjoy anything that ends up appealing to a lot of ages. Often times, the projects that appeal to all ages are ones that are in disguise. Guests think they are playing a game, but they end up making something unique!
It really hits my heart when adults say things like "the Arts aren't my thing." Or, "Just my kids will do it." Often, adults don't even consider doing their own version of a project. They are fearful of making a mark. I always tell them that they are invited to create! I love anything that helps them forget their inhibitions. I like to set an example of risk taking and willingness to simply mess around with materials to see what happens. When adults simply wonder aloud about their artistic process, they are showing their young child that art is something you can experiment with and carry with you always. You might work in a science lab or as a mechanic, but you can still be an artist.
Emily: Thank you Diana and Meghan. This was an informative and incredibly inspiring conversation. I'll see you at The Carle!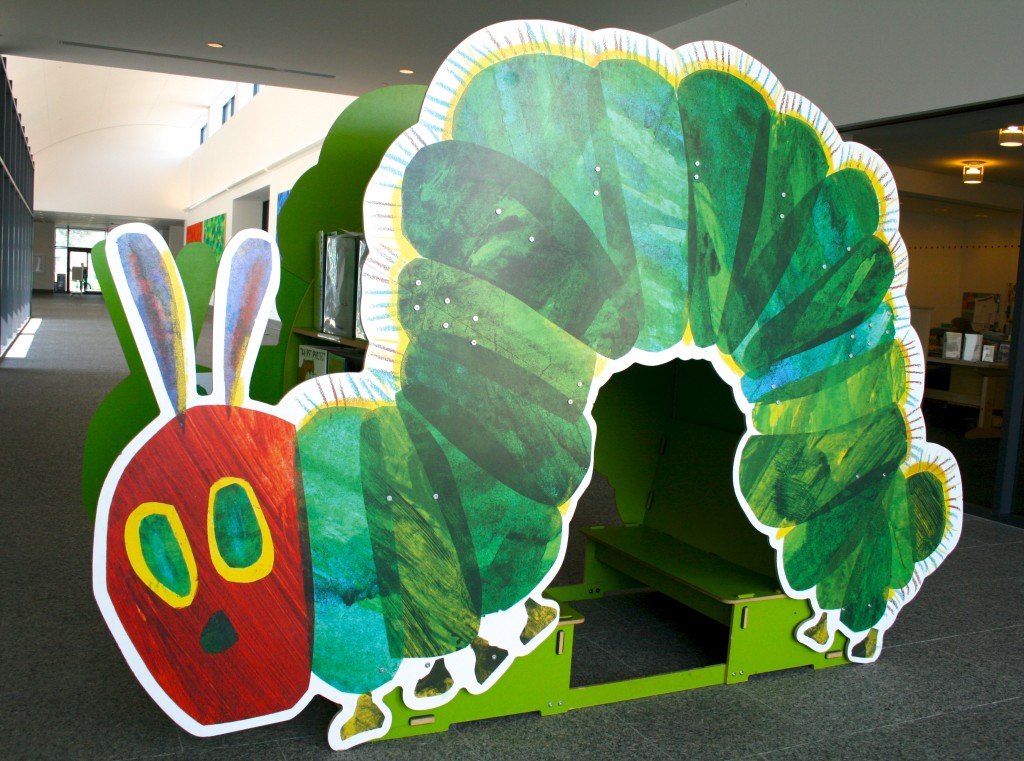 *********************************
I'll be teaching a "Start with hair" collage/drawing game at The Museum's Children's Book Festival.  Please join me!
Details:
Children's Book Festival: Games Galore!
Saturday, June 4, 2016
10 am – 4 pm
Free with Museum admission
Inspired by The Carle's exhibition, The Art of Eric Carle: Hide & Seek, join us for a day celebrating games, from scavenger hunts and board games to art projects and outdoor fun!