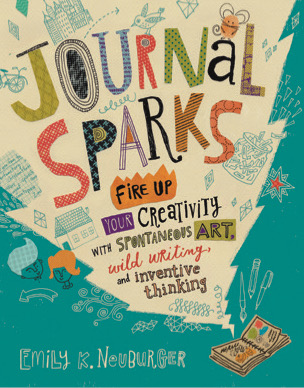 Using words, drawing, collage, and observation-based list-making, Journal Sparks highlights the many paths into journaling. With 60 interactive writing prompts and art how-tos, you'll expand your imagination and spark your creativity. Every spread invites a new approach to filling a page, from making a visual map of a day-in-my-life to turning random splotches into quirky characters for a playful story. It's the perfect companion to all those blank books and an ideal launch pad to explore creative self-expression and develop an imaginative voice — for anyone ages 10 to 100!
To be released on March 21, 2017! Pre-order it here!
"A visually adorable and joyful book full of inspiring and creative ideas for seeing, gathering, and experimenting. You will stay motivated to create for a long time!"  
(Jennifer Orkin Lewis, artist and illustrator at augustwren.com)
"A great roadmap for getting started with journaling. These thoughtful writing prompts and playful art activities will inspire and engage!"
(Susan Schwake, best-selling author of Art Lab for Kids series)
"My family's favorite kind of any-age book. These friendly, fabulous, and imaginative prompts are great for journaling but they're also approachably small, stand-alone creative projects. You'll soon be busy charting your world of favorite things and places and words and dreams."
(Catherine Newman, author of Waiting for Birdy and Catastrophic Happiness)
"I dare you to make it halfway through this book without running to grab your journal and a pencil! This trove of inspiring and practical ideas encourages us to push our creative boundaries and revel in the play between words and pictures."
(Alexandra Kennedy, executive director of the Eric Carle Museum of Picture Book Art)
"Transcendent! At a time when all of us — children and adults — are deluged with pixels and information, Emily Neuburger inspires us to use a journal to notice, feel, connect, and reflect."
(Sam Intrator, professor of education and child study at Smith College)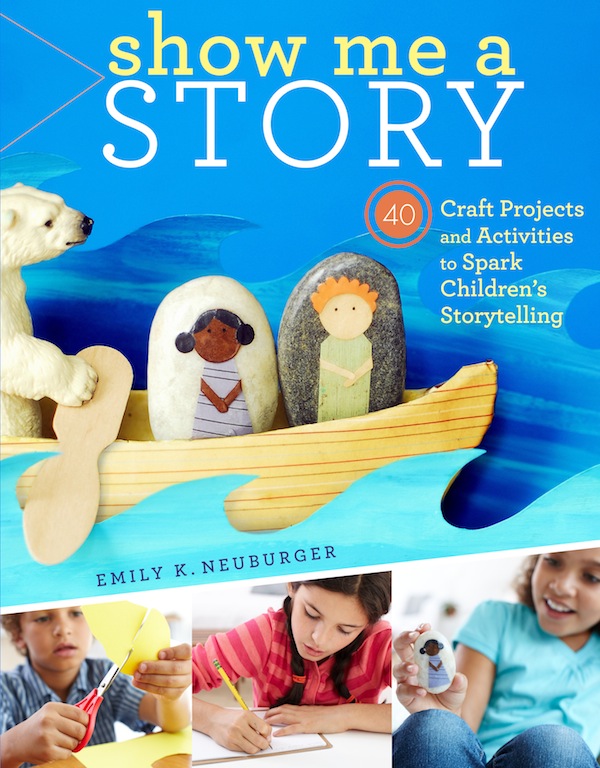 On August 28th 2012, Show Me A Story: 40 Craft Projects and Activities to Spark Children's Storytelling was released by Storey Publishing to stores all across the country. Since its release, it has won 5 national awards!
It can be purchased at these places:
Amazon
Barnes & Noble
Books-A-Million
Powell's
IndieBound
Children naturally have all sorts of amazing ideas inside their heads; the projects and games in my book are meant to help them develop and grow them. Show Me A Story is packed to the brim with projects and activities that nurture children's natural inclination to tell their own imaginative stories.  It is filled with fun and rewarding activities which inspire children to shape their everyday imaginings into rich narratives.
With craft projects specially designed to jump-start storytelling, kids are encouraged to draw, play with words, explore the outdoors, and create characters and settings with everything from found stones to rubber stamps.  There are even puppets for you to copy and cut out, templates, and lots of story sparks to help children feel inspired as they go.
I wrote the book for everyone who spends time sharing ideas and thoughts with children: parents, teachers, therapists, and education specialists.  And, hey, camp counselors are welcome to get in on the fun too!
xo emily
"Emily Neuburger's Show Me A Story is a road map for children and adults as they chart a story from inception all the way to 'ever after.' It's filled with ideas for parents and teachers alike to nurture young minds and help them see the world as a story to be told."
(Kathleen McCartney, former Dean of the Harvard Graduate School of Education)
"Neuburger shows parents and teachers how to tap into the creative power that lies within every child. Dozens of projects draw on that magical blend of story and art that is so irresistible for kids."
(Alexandra Kennedy, Executive Director, The Eric Carle Museum of Picture Book Art)
"A must-have book for parents and teachers, this amazing book is full of creative ideas to develop a child's storytelling skills. From story stones to picture tales to story maps, your children's imagination will blossom as they enjoy the activities listed in this book. Regardless of their reading level, this book is a great tool for developing reading comprehension, sequence, characters, setting, plot, and so much more."
(NBCLatino.com)
Book Awards
Best Picks winner in Dr. Toy's 2012 Best Children's Products Program
Dr. Toy
Winner of a 2012 Family Choice Award
Parenting Magazine Group
Honors winner in the Book category in the 2012 National Parenting Publications Awards
NAPPA
Award-Winner in the 'Children's Activity Book' category of The 2012 USA Best Book Awards, sponsored by USA Book News
USA Best Book Awards
Award Winning Finalist in the 'Children's Educational' category of the 2013 International Book Awards

International Book Awards